What is This Beetle in My Flowers?
Kern's flower beetles are a type of scarab beetle, closely related to May and June beetles.  They are medium in size, reaching about 1/3 inch in length.  There are multiple color variations ranging from all black, to brownish-orange or creamy white with black markings.
Should You Treat for Them?
These beetles eat pollen in multiple types of flowers.  Often you will find numerous beetles in a single flower.  Treatment of these beetles is optional as they feed on pollen and typically do not eat the flower itself. If you feel the need to remove the beetles, you can hand pick them and dump them into a bucket of soapy water.
For more information or help with identification, contact Wizzie Brown, Texas AgriLife Extension Service Program Specialist at 512.854.9600.
Additional Information
About Wizzie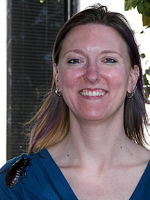 Wizzie Brown
County Extension Program Specialist – Integrated Pest Management
Email:EBrown@ag.tamu.edu
Wizzie has been with Texas A&M AgriLife Extension Service since 2002 and has been playing with insects since she was a toddler. She is an Extension Program Specialist with the Integrated Pest Management (IPM) program. Wizzie holds a B.S. in entomology from The Ohio State University and a M.S. in entomology from Texas A&M University. The integrated pest management program provides identification, biological and management information to whomever needs help. Wizzie's research focuses on imported fire ants, including community wide fire ant management. Wizzie also is happy to provide programs to area groups on a variety of arthropod-related topics. You can find insect and other arthropod information on Wizzie's blog.