Divide Agapanthus Now
It can take four years or more for Agapanthus bulbs (Agapanthus africanus), to multiply or naturalize.
Eventually you'll want to tackle large bunches and divide Agapanthus to ensure your lilies continue to produce those lovely blue or white bloom clusters. In the Austin area, these lilies bloom in mid-to-late spring, typically around Mother's Day. As these are also great container bulbs, you can pot extras to gift to family and friends, or to enjoy on your patio.
Easy Dividing Technique
Grab your gloves, a spade, a hand spade or knife, and a watering can or hose for this activity. The easiest way to divide Agapanthus is to lift the entire bunch with a spade, digging in a circle around the bunch approximately 8-12 inches beyond the foliage.
The lilies develop a large mass of white fleshy roots which often travel as much as 16 inches beyond the foliage tips, but it's okay to cut the roots for easier lift and transplant. The root system is typically no more than a foot deep, which is also why the roots develop a tangled web extending out from the foliage.
Once you have the bunch extracted, shake off the soil to expose the roots. If not too tight, use your hands to gently divide the bulbs into single shoots by pulling apart. If tight, use a hand-spade or knife to separate the bulbs, while paying attention to maintain several roots per bulb. Don't worry if you accidently sever some roots, a single root on a bulb will maintain the bulb's life.
Thinning Works Too
If you prefer to thin the plants rather than removing the entire bunch, look for a single or group of bulbs around the exterior and using a spade, make a slice in between the main grouping and that you'd like to remove. Remove as many bulbs or grouping of bulbs you'd like and then detangle into individual bulb shoots with your hands or by cutting with a spade or knife.
Bulbs Need Soil and Some Shade
Agapanthus grow in USDA zones 8-10 and require full sun to part shade while preferring well-prepared or composted soil. These bulbs can withstand a lot of water, but also do well with minimum incremental water during our times of drought. Agapanthus do best in our area with a little shade from the hot afternoon sun, such as the understory of a tree. For best blooming, ensure the bulb receives at least four hours of sunlight a day.
Once you've selected your spot, dig a hole twice as wide as the root system and only as deep as is necessary to sit the bulb so that the neck is slightly above the soil line. Build a small mound of soil underneath each bulb and spread the roots out in a circular fashion. After placing all the bulbs, fill in the soil and gently pat in place.
Water the entire area to give the roots sufficient moisture to recover from the shock of the transplant. Cut off damaged foliage so all the plants' energy will focus on root development and sustaining the healthy foliage. With the cooler nights coming, add a layer of 1-2 inches of mulch around the bulbs to help protect the roots and to assist with moisture retention. Continue to water daily to every other day for the first week if no rain. After the first week, water every 3rd day for another week or two and then allow mother nature to take over.
Maintaining Agapanthus
In early spring, your bulbs will enjoy a little compost to help their continued development. Once the blooms have turned brown and the birds have enjoyed the seeds, cut the flower stalk off at the base. If desired, you can add a little bone meal or 5-10-5 fertilizer to help with the development of next year's blooms. The strappy foliage is evergreen, so you will have the entire year to enjoy the mounds of greenery. New hybrids are being developed, producing bulbs with deeper purple blooms as well as new dwarf varieties reaching only 18 inches tall – so just another reason to enjoy an Agapanthus in a container or in-ground.
Additional Resources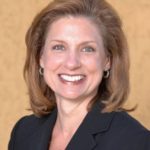 Yvonne was a 35+year veteran in the computer and information technology industry when she retired and moved from Houston to the Austin area. In 2018, Yvonne certified as a Travis County Texas Master Gardener to follow her passion for gardening and volunteering within the community. She has spent 20+ years enjoying gardening and working with bulbs and perennials. She now tackles the challenges presented by the Austin area wildlife, drought, and limestone soil.